The Delicious Taste of TacoMex
Client Spotlight: Medical Account Systems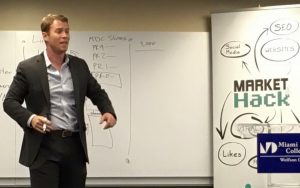 In case you missed it, Voyage MIA Magazine recently sat down with one of the two founders of Corey Consulting, Christopher Corey. Run by Voyage Media, Voyage MIA presents itself as a showcase of the best aspects that represent the Magic City, from people such as freelance artists to cool local groups that are worth being a part of. Unlike most publications, Voyage Media interviews are largely candid and unpolished to create a read that truly captures the personality of the person being interviewed.
For those that are unfamiliar with the rise of Corey Consulting, the interview is a fascinating read discussing how Christopher moved back to Miami after flexing his entrepreneurial skills and eventually joined forces with his brother and co-founder Brian to launch the company in 2011 with just five clients, three of which remain with the company to this day.
Check out the "Meet Christopher Corey of Corey Advertising in Coral Gables" article on Voyage MIA today. And make sure to check out the website itself to learn more about the best of Miami and its denizens. Congratulations on the magazine feature and your ongoing success, Chris!