Client Spotlight: Robert Glaser Giving
Client Spotlight: All Blinds Miami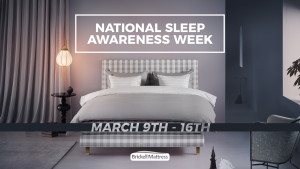 Every once in a while, you may have a night where you can't seem to fall asleep. And then there are the millions of other people that deal with that same problem chronically. Insomnia is among the most common of sleep disorders and it can happen due to a number of reasons. Stress and anxiety are major factors but it could also be that your bed isn't doing the best job in making you feel comfortable enough where you're lulled to sleep. If that's the case, you may want to pay close attention.
We've previously mentioned our client Brickell Mattress, a specialty sleep store focused on selling some of the world's most comfortable and acclaimed beds by names like Hästens and Vispring. We're talking beds that use all natural materials and are often used by celebrities and royalty because they're just that good.
The team over at Brickell Mattress has made it a point to help customers get better sleep and to do that, they're launching Sleep Awareness Week, beginning tomorrow. Customers are encouraged to drop by the store for a free customized sleep assessment aimed at improving their sleep by finding the perfect mattress that matches their needs and body type. The event continues until March 16th. Brickell Mattress is located at 1030 SW 8th Street in Miami. See you there!