Check out SnowLizard's Rugged iPhone Cases
Learn More About the Firm of Hochman & Goldin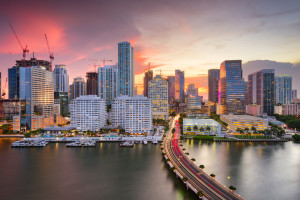 When you hear the word "magic", what city comes to mind? If you guessed Miami, you are correct! Miami's official nickname is "The Magic City" and it truly is a magical place to live. With its perennial style, the beaches, a rich fusion of culture, and wonderfully sunny weather, it's one of the most in-demand cities in the country.
Miami's properties are frequently favored by celebrities, especially the homes and condos in Miami Beach and the area of Brickell. Brickell refers to Miami's Brickell Avenue and its financial district. It is the home of some of the city's most impressive high-rises including the luxurious Four Seasons, one of the tallest buildings in Florida. The Brickell.com website has remained one of the top resources in acquainting buyers, sellers, and investors with all things Brickell real estate. The website was founded by Andres Larkin, a real estate professional with years of experience working in Brickell real estate.
The Brickell.com website showcases Miami's popular communities like the island of Brickell Key, Edgewater, Midtown, Downtown, and of course the Brickell area itself. Visitors will also find information on the newest developments as well as useful information on the best events, shopping, dining, lodging, and more.
Visit Brickell.com and discover the magic of Miami today or call 786-306-4287 for more information.