Client Spotlight: The Jills
Client Spotlight: Robert V. Glaser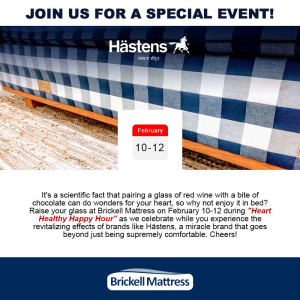 When is the last time you genuinely got a good night's sleep? We mean waking up feeling refreshed and ready to kick butt and be productive with real enthusiasm. If you can't remember the last time that happened, the mattress you're sleeping on may have something to do with it.
Previously, we mentioned our client Brickell Mattress. Located in Miami, the store sells some of the world's finest luxury mattresses, the kind that are often chosen by royalty and practically guarantee the best sleep experience of your life. If you've never been to the store, you may wish to set aside some time this weekend to check out the "Heart Healthy Happy Hour" event!
"What's that? Happy hour at a mattress store you say?" Indeed, Brickell Mattress is inviting you to enjoy a glass of red wine paired with another treat that does wonders for the body good in moderation: chocolate. The event kicks off tomorrow and will continue until Monday, February 12. Pay them a visit and check out some of the mattress brands like Hästens and Vispring, they're unbelievably comfortable!